How can we help you today?
We are one of Indiana's largest installers of new siding.
Exterior Building Products offers great savings to our clients due to our volume purchasing. Our job is to make your job easier. With over 30 years of experience in construction combined with our knowledge of quality products, vendors and our proven professional staff sets us apart from the rest. We fully guarantee our work and offer a 2 year workmanship warranty on all of our projects.
Please fill out your contact information and an experienced member of our team will contact you ASAP! Or, just call us at 317-894-5300. We are looking forward to helping you!
Here are two siding products we install and highly recommend.
James Hardie ColorPlus® Technology combines distinct beauty and high performance. It's the easiest way to choose a gorgeous color for your house, and feel confident in its staying power.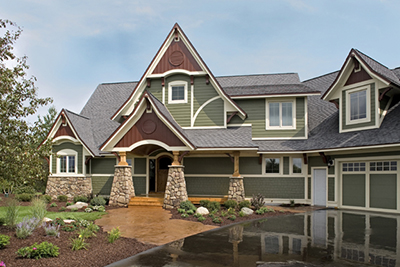 While all James Hardie® siding and trim products are available primed and ready for field painting, when you invest in ColorPlus® Technology, you're getting a consistent coat of proprietary finish that was baked-on in a closely controlled factory environment. That means even coverage and color that will last for years.
Another benefit of ColorPlus Technology? It helps resist fading from UV rays, so your color will stay vibrant for longer than regular paint.
Last but not least, the ColorPlus Technology palette contains a variety of gorgeous, well-edited colors curated by our color experts. Instead of feeling overwhelmed by choices, you'll feel empowered by our tried-and-true options.
Available in 6″ and 8″ widths with a 3/8″ thickness and a 12′ length, Eco-side has the perfect profile for any building.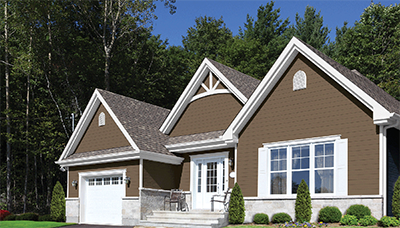 Building green is easy with Eco-side. Using 100% recycled content, Eco-side is FSC certifiied and can contribute points to LEED projects.
Using state of the art engineering and manufacturing techniques, Eco-side is 50% lighter than fiber cement siding, making the panel easier than ever to handle.
"I had an open board meeting at Yorktown last night and one of the members praised your company and the work they did.  They said your crews were professional and quick and did a great job of cleaning up after themselves.  Several other people then piped in on how well everything went. Please share with your crews how happy the Board, KMC and the Membership at Yorktown Homes is about the work that your company did."
Alicia D. Osborne Regional Vice President, Kirkpatrick Management Company, Inc.
"Just a note to let you know how pleased I am with the way the courtyard turned out. Although we've not experienced a major rain storm to test the system out, the Vast Pavers turned out to be very popular. Especially to those people who have taken the time to walk out on them. The expectation was thinking they were like most brick pavers and then they realized that they felt soft to walk on. They are definitely a product to give strong consideration to for any paver project."
"My husband and I were very happy with the work performed by Exterior Building Products. Scott Harris was on the job site from start to finish. His crew was very professional and conscientious,and they completed the job in a timely manner. We are so pleased with the finished project and have received many complements from neighbors and friends. I would highly recommend Exterior Building Products!"
"I Would like to give a testimony to Exterior Building Products and the level of service I just received.  From the sales experience to the work that they completed yesterday  it was an A+ grade all the way.  I purchased replacement windows for my entire condo.  The Exterior Building Products team completed the work in 1 day.  I am more than satisfied with the product they sold me as well as the quality of workmanship.  I highly recommend Exterior Building Products and I will certainly refer my neighbors and friends to use them."
"Scott and the crew from Exterior Building Products have done quite a bit of work for us in the past few months.  From roofing and siding several rental properties to roofing our own home, the entire process was one of the best experiences we have ever had with a company. We gave Scott a deadline to have certain projects done and they were the only company to meet those deadlines for us.  They even worked weekends to get things done.  We have had many compliments on the houses that Scott and EBP worked on.  EBP did exactly what they said they were going to do, when they said they were going to do it and for the price they said they would do it.  No job was too big or too small. We would highly recommend EBP to anyone wanting a quality job professionally done. "
Terry & Jane Knudson, Viking Property & Land
"Exterior Building Products put siding on my house and from beginning to end, I had a wonderful experience with them. The owner, Tony Wilson worked with us from the beginning and I was so impressed with his ideas, knowledge, doing what he said he was going to do and always keeping in contact with me. My house looks absolutely beautiful because of the way his crew was professional about the work and I had to give Tony and his company a review to show my appreciation."
Kim J, Customer Review On Better Business Bureau Website
"Exterior Building Products installed VAST pavers on my patio. "The warranty from the company and the one from the manufacturer are for 2 and 10 years respectively. That seems satisfactory to me. I like the idea that this is a green product. All of the men that I have spoken to have been courteous and responsive."
"I just wanted to send you a quick note to let you know what a great job your crew did on the installation of my new windows.  They were efficient, courteous and respectful of my space. I can already tell the difference in the atmosphere in my home, as well as a reduction in the noise level, which as you know was very important to me."